Title : The Little Christmas Shop on the Nutcracker Lane
Author : Jaimie Admans
Genre : Romance ; Chicklit ; Christmas
Pages : 384
Publication date : 10 December 2020
I received this Advance Review Copy by Netgalley and HQ Digital (Harper Collins) in exchange for an honest review.
Thank you Netgalley, HQ Digital and Harper Collins!!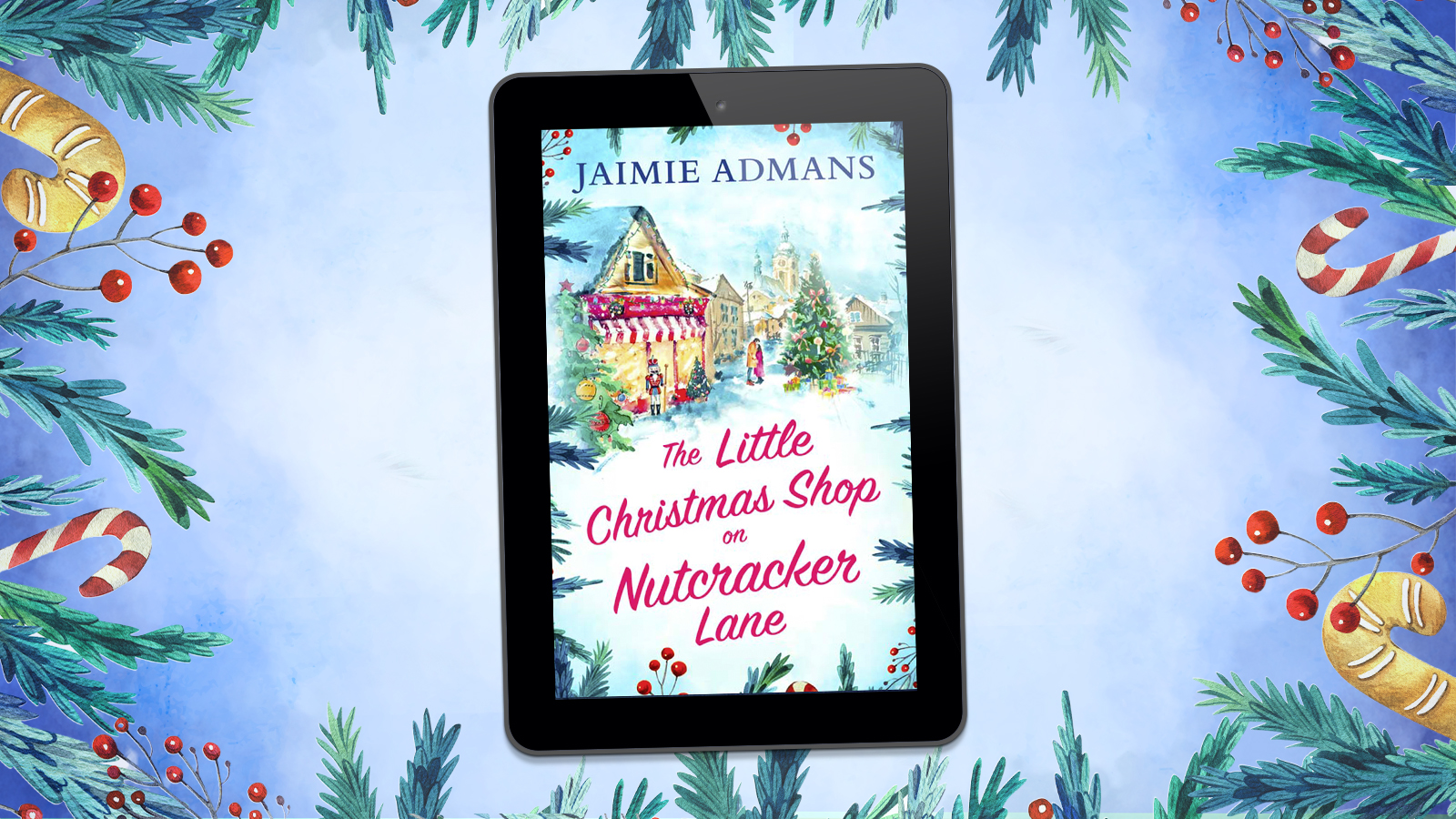 Blurb
It's the most magical time of year, and anything can happen…
Nia Maddison has always believed that wishes come true on Nutcracker Lane. So, when she gets the opportunity to run her own Christmas gift shop on the most magical street in town, it feels like her wishes have been finally granted.
But working late one night, Nia discovers yet another boyfriend has cheated on her. As she trudges home – alone, again – she passes the (supposedly) magical nutcracker and half-joking thinks a wish can't hurt. Cracking a nut in its mouth, she wishes to find Prince Charming.
The next day Nia gets to work to find another decoration shop has opened directly across the lane from her own, and she can't resist having a nose around.
Whilst there, she accidentally backs into a human-sized Nutcracker, knocking it over and breaking it. Mortified, she flees from the store but when she gathers her resolve to go back and apologize, she stumbles across the gorgeous shop owner James, who looks exactly like Prince Charming…

Could her Christmas wish from the night before really be coming true?
Review
The Little Christmas Shop on Nutcracker Lane is the new upcoming novel of Jaimie Admans. This book is a breezy happy read which will bring Christmas and its magical vibes right into your life in a jiffy. The author had beautifully described essence of Christmas with all christmassy elements and aura. She has typically brought the Traditional Christmas in front of the readers eyes through her spectacular and jubilant writing style.
Jaimie Admans is the right person, if you want to read a happy, vibrant and mood-lifting kind of a book. She knows what she is doing and she spreads happiness that's oozing out of her soul with her magnificent books. She has a wonderful writing and narrative style which is filled with humor and merry. The way in which she see a simple thing and how funnily she approaches it through her writing is the most sublimest thing which makes her books stand out. And that's the secret behind the success of her books!!
The plot was simple yet a fulfilling one. The total idea of the book was so cool. Starting of the book was pretty much slow but within no time, the plot kick-started and turned completely arresting. What made this book really exciting was, there were a plethora of Christmas activities packed inside it, for example, things like Christmas Carols, baking, building Gingerbread house, watching Christmas movies, helping fellow humans beings, all these things made this book extraordinary and very Christmas-like and also there were lot of heart-moving scenarios. These things about this book will make even a skeptical person believe in the magic of Christmas.
The descriptions about the Nutcracker Lane, it's history and the people who made Nutcracker Lane special were said in an elaborate manner and it was unbelievably engaging. The ideas pitched by Nia to make her favorite Nutcracker Lane better was brilliant and ingenious. The characterization of both the leads Nia and James was simply superb. How they both were so very different when it comes to the total idea of Christmas, was the best thing about this book. The way Nia carried herself throughout the book with full enthusiasm and energy was very refreshing and good to read. When it comes to the chemistry between Nia and James, it was highly charged and sensual. Reading them both gave a complete sense of true satisfaction.
My Views
Oh my god!! So I'm a biggest fan of Jaimie Admans. I was literally waiting for the very moment to receive this book ever since she announced the release of it. I was waiting for this book like a crazy person, when the publisher didn't respond to my request for few days, I was very anxious and immediately texted Jaimie about the matter, even though I consciously know she has nothing to do the review copies provided by Netgalley and the Publisher. So, basically I was that eager to read it and thankfully I wasn't disappointed at all. In fact I loved it so much, so much more than my favorite The Little Bookshop of Love Stories. If you're someone who are following my blog regularly you would know how much I love TLBOLS. Now believe me when I say it, this book is all you need for this season or anytime you wanted to feel good, happy and Christmassy.
I'm someone who haven't had a lot experience with celebrating Christmas traditionally, my idea of Christmas is to binge watching Christmas movies on Netflix the entire month. But this book made me experience the true essence of Christmas in all the senses. It's not even second of October and I already can't wait for Christmas and I'm sure this Christmas will be different and more fun for me altogether. This book brought Christmas early to me and I'm in the mood to read more Christmas Books.
I loved this book so very much!! What I liked the most about this book was at the end of the book, Jaimie made me believe in Christmas magic completely and I'm sure she will do that to every other reader. Yeah, I agree, Christmas is the most magical time of year, and anything can happen!!
My rating for this book would be 5 out of 5 stars
I would recommend this book to all romance and Christmas lovers and to the people who believe in the Christmas Magic. If you are someone who just want to read a happy and feel good book, you know which book to select right 😀 And if you're someone who cannot understand what's so special about Christmas and if you're not very excited about Christmas. This book will totally Un-Grinch you, can't understand what I am saying ? Translation —> Just read this book, you will fall in love with the book as well as Christmas.
Pre-order The Little Christmas Shop on Nutcracker Lane here!!!
Book Review of The Little Bookshop of Love Stories
Author Interview with Jaimie Admans
Happy Reading Folks!!!
And Advance Merry Christmas!!
~ Meenu
This December celebrate your Christmas along with Jaimie Admans's "The Little Christmas shop on Nutcracker Lane"

Tweet